Schedule of the European Cup semi-final 2020 after the Covid-19 epidemic. View the latest live schedule of the European Champions League 2020 football live today.
Due to the effects of the COVID-19 pandemic, the 2019/20 Champions League was interrupted for nearly 6 months. It was not until early August that the club-level continental No. 1 tournament started to return to matches in the eighth round.
On the morning of August 9, the last two matches in the second round of the 1/8 Champions League round took place. That was when the fans knew all eight teams won tickets to the quarterfinals, including Atalanta, PSG, RB Leipzig, Atletico Madrid, Barca, Bayern Munich, Man City and Lyon.
Instead of playing at home or away, since the quarterfinals, teams will focus on Lisbon to attend the mini Champions League, the format is one-round knockout.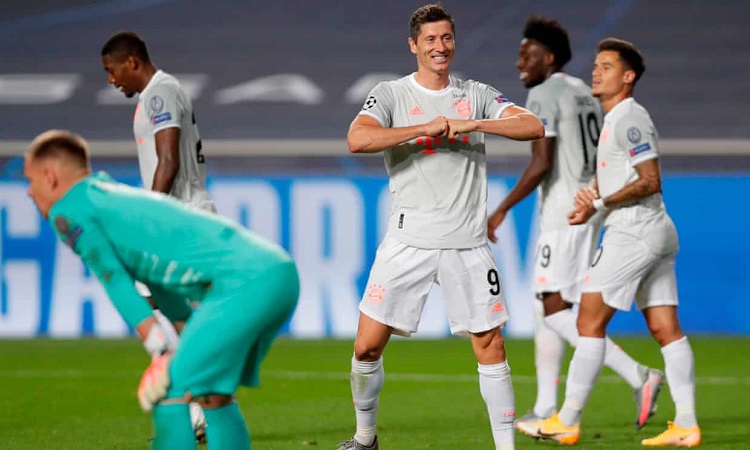 In other words, the teams will only meet once and have no return match. This mini Champions League started on August 13 and ended on August 24 with a final.
Like in the National Championship, each team is allowed to replace up to 5 players, with the 6th player allowed in extra time. However, each team has only 3 chances to make a substitution, with a 4th chance being applied at overtime, except for a substitution made at mid-time, before the start of overtime. and the break between extra periods. This was passed after a proposal from FIFA and approved by IFAB to reduce the impact of the tight schedule.
Schedule for the quarterfinals of the Cup
2:00, August 13: Atalanta 1-2 PSG (1)
2:00, August 14: Leipzig 2-1 Atletico Madrid (2)
2:00 August 15: Barca 2-8 Bayern Munich (3)
8:00, August 16: Man City 1-3 Lyon (4)
Schedule for the semi-finals of the Cup
2:00, August 18: PSG vs Leipzig (1)
2:00 August 19: Bayern Munich vs Lyon (2)
Schedule of the final Champions League final
8:00, August 24: Win semi-finals 1 vs Win semi-finals 2